My Past Walking Routine and Weight Story
My Weight Story
I've always been a 'twig'. That is until…
A few years ago, on my birthday, my mother, took pictures of me with bouquets of flowers spilling over the edge of the kitchen table where they had been collected as delivered early that morning from friends and family for the special occasion. But happiness that day was short lived Upon review of the photos taken DUN DUN DUUUUUN… I had to do a double take and, unfortunately so, with disgust! There went my day …
That's not me, is it?!

-Bee, a mom, a few years ago
I was 15 lbs over my life average weight and 10 by the health 'standards'. I literally didn't recognize the person in the image looking back at me. I held it together (barely) but on the inside? I wanted to CRY. I wanted to go back upstairs, change into something comfy and hide. It's those sneaky pounds that were somehow absent from your life right up until that moment… that terrible, terrible moment where POOF – here they all are – all at once!
Oh, I got angry! Then, sad. But thankfully sadness followed by a rush of drive to lose this weight and get myself into shape!
So, I got to work and by work I mean walk. Within 4 months, I was back… no, I was in better shape than before I gained the first place. And now? I need to do it again!
My Once Upon a Time Walking Routine
Walking and getting paid for it while hanging out with dogs. You may have guessed (or known) this about me – I was a pet sitter for many years and loved every minute of it! Without question, it was one of the most fun, free, rewarding, and challenging jobs I've ever had. One of the reasons I loved it is that I had the opportunity to walk with my hound pals and exercise on a daily basis.
On an average, I would keep my pace at a 3 mph mark. This is basically a brisk walk for an average of 25 minutes per walk. Now, multiply that 25 minute walk by 5-10 per day, that's about 2 to about 4 hours of walking per day.
I didn't alter my diet (healthy/organic/raw 75% of the time and 25% naughty) or did any additional work besides what I'll go over. Four months of this deliberate and dedicated walking had two major benefits – defined abs, butt and legs AND loss of 10 lbs!
Keep reading for tips on how to triple your walking workout and help the pounds come off!!!
My Walking Routine Now (don't judge)
This winter took a toll on me, I don't mind telling you. And, I haven't been out much. Okay, FINE… I haven't been out at all. Needless to say, with limited outings due to the weather and the continuously lost battles to the newly adopted, post-pregnancy sweet tooth, I am a few pounds over my desired mark.
So, CMON spring, I'm running out of excuses and summer is calling my name!
My New Walking Routine
I won't lie, I probably will have to work up to the 2 hour per day walk but I am eager to start come spring and available sidewalk, free of snow, slush, and water. My projected walking workout will be posted and periodically updated to (hopefully) reflect my weight loss results.
Goals
This is just the beginning and thus, pretty light to start with:
Time per session goal: 40+ mins per walk
Sessions per week goal: 5+ days per week
Total weight loss: 20 lbs
Daily nutritional intake of 1500 cals
Better flexibility
Better definition in midsection/ab area
Better definition in legs
Stronger core abs and back
More energy
Gadgets & Apps
Motorolla Maxx (smart phone) – especially smart on the battery front for the following:

Pandora: gotta have our music (station: Aris Flow)
or TED: for when she's asleep and won't mind much
Noom Coach pedometer – counts our steps, gives guidance and encouragement

Headphones: some old pair I found in a drawer (nothing fancy here, lol)
Walking Gear
Check out the Bee Picks Top Walking Gear Bee picks!
Graco stroller
Stroller cover
Running shoes
Sunscreen
Bug repellent
Lip balm
Fanny pack (well me and Matthew think they're hawt!)
Water in a glass bottle (now you know I don't use plastic if I can help it!)
Umbrella
Tips for Greater Walking Benefits
Stretch before you walk (yeah, it sounds silly till you're cramping in the middle of crossing a street… that might have happened, lol);
Now, really stretch and hold (3, 2, 1) to help your flexibility;
Perform mini forward lunges as you walk: 10 reps alternating with calf raise reps;
Perform walking calf raises as you walk: 10 reps alternating with mini forward lunges;
Use ankle/wrist weights for an extra challenge; Cando Adjustable Ankle Weight,Red, 4lb,Each – $19.99
Keep your core tight as you walk (think of getting your bellybutton as closer to your back as possible). This will help shed and tone your midsection;
Choose uphill terrain, even if just ever so slightly, trust me that double impact is worth it;
Keep the core tight and work them hips as you move (this really helps tone your midsection and so easy!);
Breathe well to keep your body oxygenated and energized;
Be positive and keep your eye on the 'You' you are trying to achieve – see it, live it;
Pick a walking buddy for extra support (sometimes it's more fun to commiserate with someone to pass the time by);
Fat fast for the better part of the day consuming water, fruits and veggies. Eat a regular dinner;
Avoid sugar and alcohol like the plague!!! This does not include the sugar from nature. I eat lots of bananas, apples, and peaches!
Drink lots of room temperature water. Cold water may taste better but it has been proven make it more challenging for the body to get rid of and disperse fats that you've recently consumed.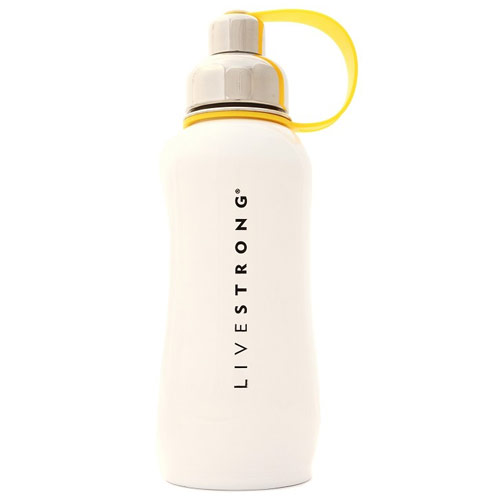 <<<BAM Top Pick: Thinksport LiveStrong Stainless Steel Insulated Sports Bottle, White, 25 oz
You should probably keep in mind that I am not the animal work out type of person. I keep it slow but steady, so please, bare with me.
For all those reading this, understanding and loving – Thank you! I am forever grateful for your support and kind thougths dear Bees. I mean, if we don't support each other, who will, right? Ah, moving right along.
Check in on My Walking for Losers Progress.
---
Don't Hate on Walking – Sometimes, It's Better Than Running
Helpful articles on walking and it's benefits
Here are 5 ways walking is better for you than running from Mother Nature Network.
Is weight loss is really possible with walking?
At a weight loss rate of ½ -1 pound per week, it will likely take you at least 20 weeks to lose 20 pounds. Losing weight at this pace is safe and will help you keep the weight off long term. Which is worth it in the long run. Unless, of course, you love yo-yo dieting.

FitDay.com – How to Lose 20 Pounds by Walking
---
Grab some Bee Blog to Go
[wysija_form id="4″]
Bee is the contributor and keeper of this space -- Chewy Mom (formally known as Bee a Mom). She is a self-proclaimed chewy mama and is ruled by one adorable Bossy little being.
Together, they explore the topics of gentle parenting, healthy eating, grateful thinking, yoga bending, nifty hacking, green living, soul searching, and mindfulness practicing.
She has lived many lives. She has seen great beauty and utter darkness. It makes her whole. She is strong and with your presence, support, and love right here, right now ever stronger!!!
Read more about her by visiting the
Meet the Bee
page or
email her right now!
We hope you enjoy the adventures of Chewy & Bossy!